Meet Luna the Cavalier King Charles Spaniel
Luna is a gorgeous 16 month old tri-colour king charles cavalier spaniel who lives in Wales with Leighton and Nita. She lives for cuddles (don't all cavaliers?) and is a playful, gentle little superdog.
Here's the lovely Luna and her equally lovely 3d printed sculpture. Apparently the real Luna is convinced her sculpture is also a real dog. We'll let you know how that one goes!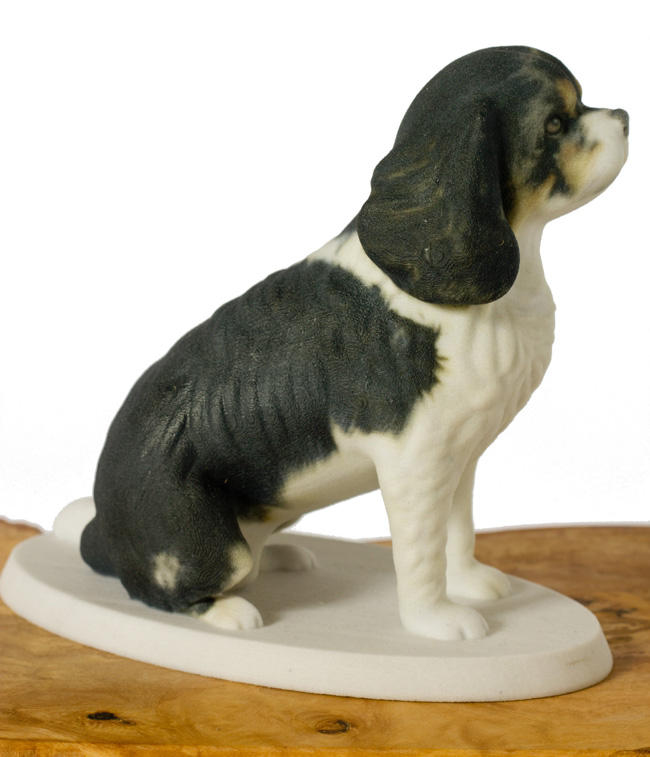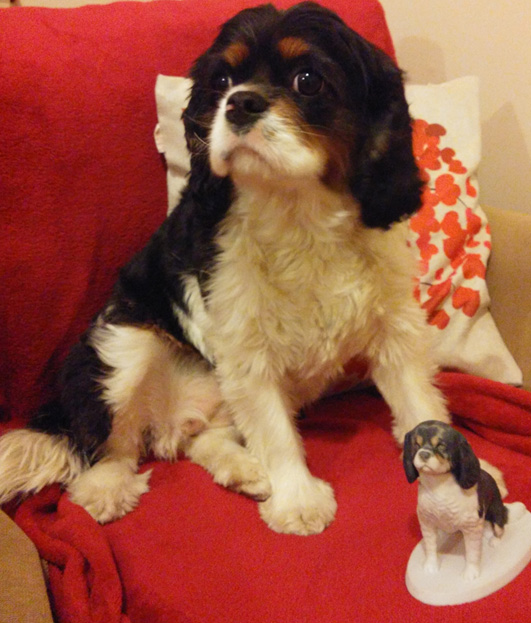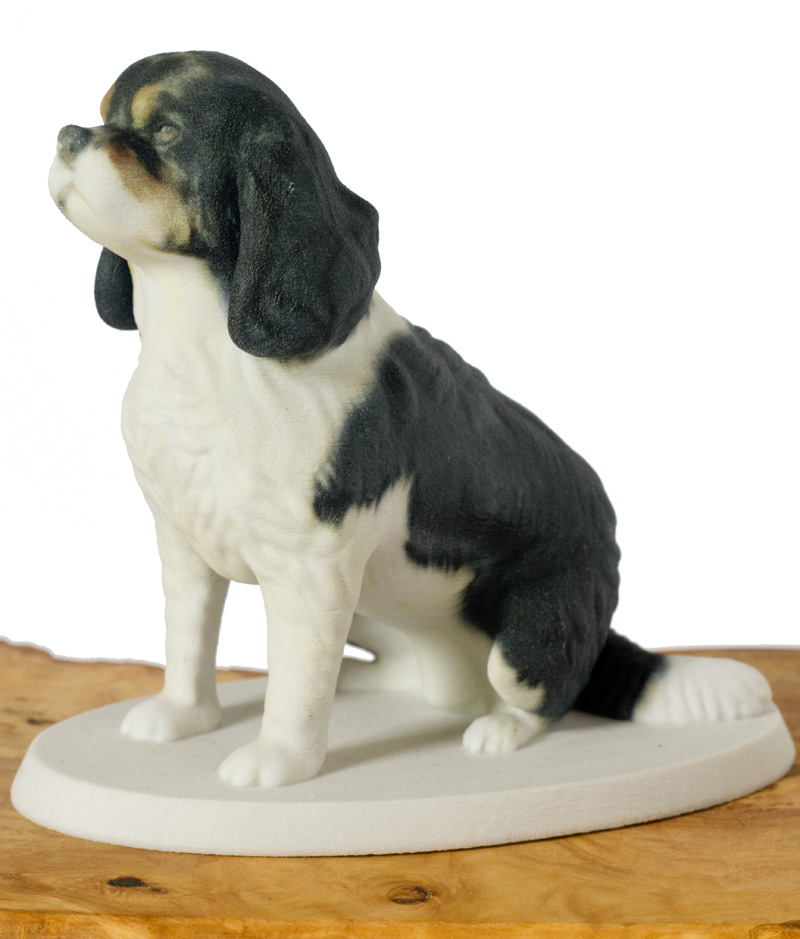 Check out an interactive view of Luna's 3d printed sculpture
Luna has her own full colour 3d printed sculpture, and here it is looking pretty wagnificent.
Have a look at this interactive view of Luna's 3d printed cavalier king charles spaniel figurine; and if you're interested you can order a sculpture of your own dog here
"Thank you so much for Luna's model, it's really good. Even Luna loves it and has been going crazy (in a good way) when she first saw it.

It will be a treasured keepsake for the family."
Nita & Leighton
Luna came for a cuddle and a chat, along with her owner Leighton.
What was Luna like when she first came to live with you?
Leighton:Luna had (and still has!) lots of energy and is full of life as she's still so young! She would always want to have a stick in her mouth when out walking but now she listens really well and walks on her lead without pulling. She still loves to chase birds on the beach but does always come when she's called.
Luna: I'm being a model dog just to trick you into not watching me - then it's seagulls-and-chips for supper. Just you wait.
Leighton: She's just learnt to fetch a ball and bring back, rather than leaving it after thrown.
Luna: I am not sure why the humans keep throwing the ball away if they just want it back. Endlessly perplexing! They seem to think it's fun though, so I guess it keeps them amused for a while.
What does Luna eat?
Leighton: Luna was a bit fussy with her food to start with, but is into a good routine now. She especially loves salmon (she's not spoilt!) and cheese as a special treat.
Luna: Hey! You forgot to mention the chips. Luna would like to eat the chips. All the chips, please. And then a cuddle.
Perfect day?
Leighton: A long walk on the beach, Luna is very active and even though she knows she's beautiful she doesn't mind getting completely stinking! Then back home to cuddle up on the sofa.
Luna: Perfect! You just missed the bit where when we get back home, before cuddling on the sofa, we'd finally catch next door's cat who always taunts me by sitting in our garden when I've been shut in the house. Then cuddle up on the sofa.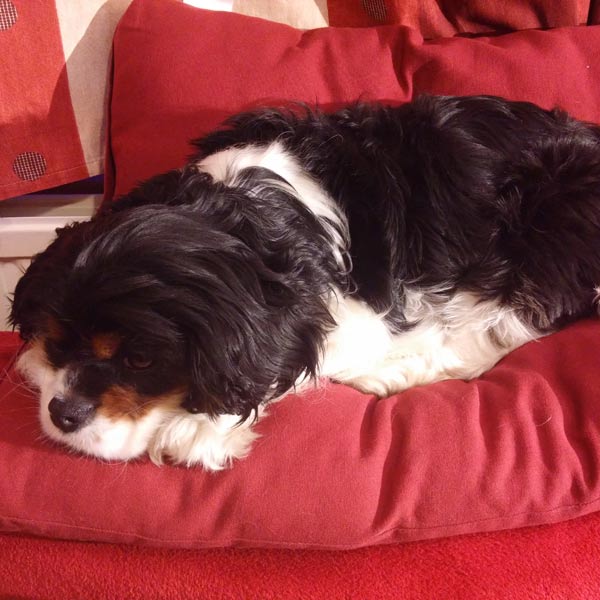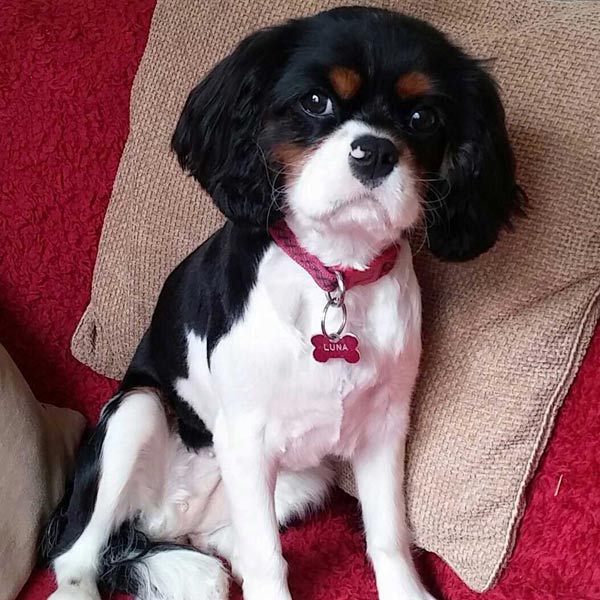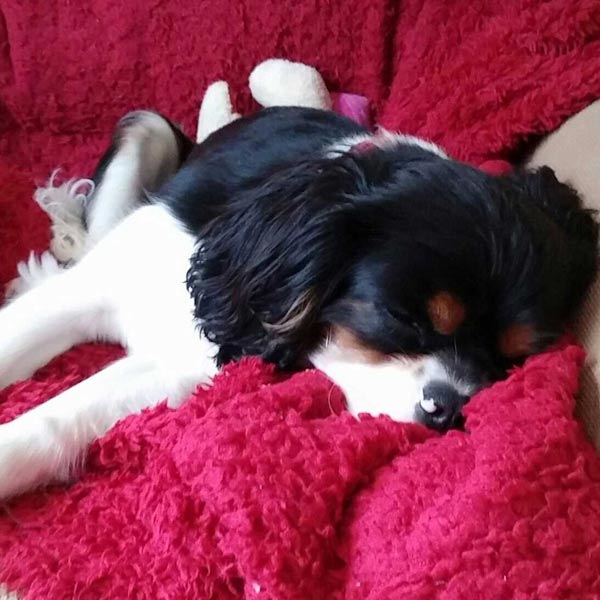 How affectionate is Luna?
Leighton: Luna, probably like all king charles cavaliers, lives to cuddle. She always prises herself in between us to be included.
Luna: I love my humans so much. Especially when they give me cheese, or one of their chips. Or - and this is just an idea guys - chips AND cheese. Or, you know, just a cuddle is fine.
Leighton: When we come home she goes crazy, doesn't stop wagging her tail and wiggling her body; and brings you her toys to get you to play.
Luna: Often I go out for a walk with the grandparents while my humans are at work, and watching the world out of the window is fine too - but the best part of the day is the part when my humans come home!
When is Luna happiest?
Leighton: When she is with everyone and off the lead running on the beach.
Luna: Chasing birds with all my pals - I can't think of anything better!
Luna is quite adventurous isn't she?
Leighton: Yes! She loves to travel in a basket on the back of my bicycle. She also loves sailing!
Luna: I've got my very own life jacket and everything. Oh yes, I know the ropes. Anchors aweigh and it's a salty sea-dog's life for me! Plus, fish and chips when we get home - non? Woof!
Tell us a story about Luna
Leighton: When walking at the local woods, Luna chased after a bird and she shot off like a rocket. We didn't know where she had gone. So we waited and called her name... Luckily it was a dry autumnal day and the leaves were crisp. We could hear in the distance a rustling noise from the leaves. It had to be Luna, calling her name she came running to us, crunching through the leaves. Thought we'd lost her but no chance, she knows how good it is at home!
Luna: Thanks for not telling them about the pen.
Leighton:... she also chases a laser pen around the house.
Luna: ...
Leighton: And she makes a really cute noise when rubbing her face next to yours.
Luna: This interview is over.
Shop our Cavalier King Charles Spaniel presents and accessories
Our Cavalier King Charles Spaniel earrings and Cavalier King Charles Spaniel necklaces are modelled on the beautiful Luna. You can order them in a range of quirky colours and also in silver or gold.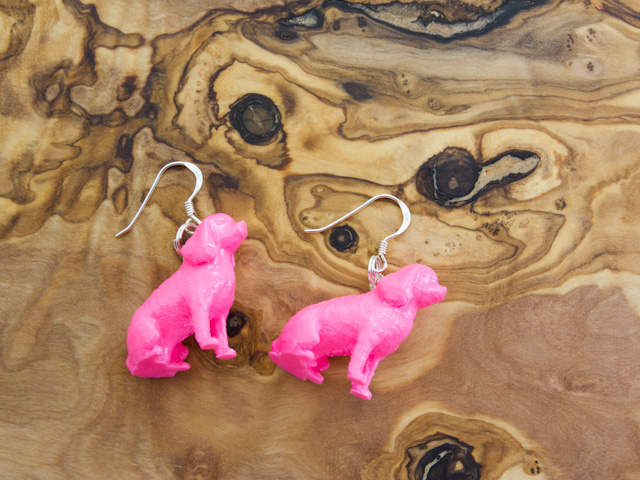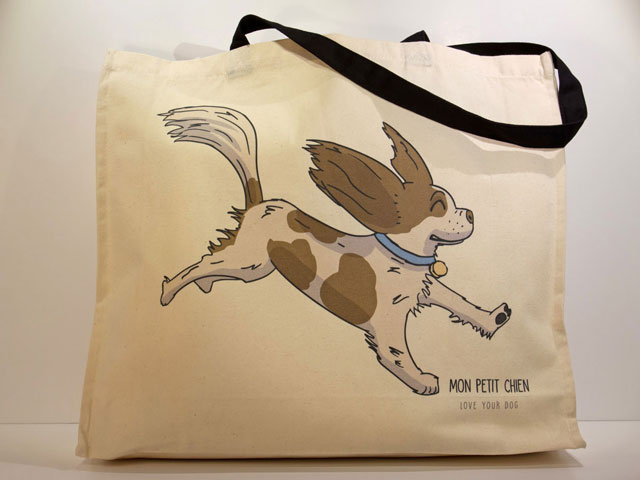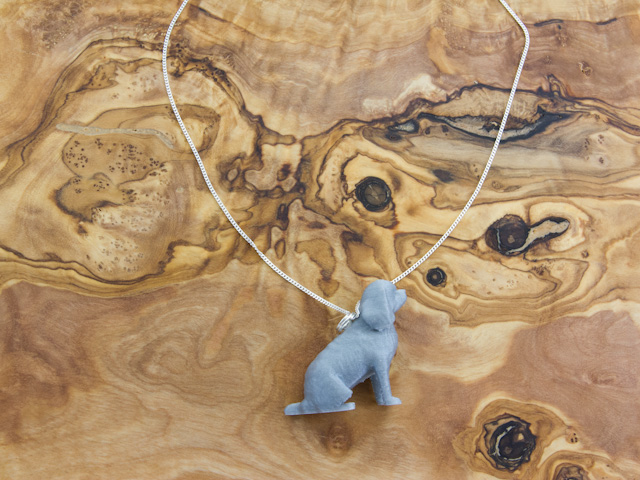 You can also commission a unique 3d sculpture of your own gorgeous Cavalier King Charles Spaniel in full colour, or commission some silver or gold jewellery based on your lovely dog.
Our range of personalised books is available to order for Cavalier King Charles Spaniel - pawfect presents for pet owners! Find your Cavalier King Charles Spaniel book here.
Don't forget to take a look at our beautifully illustrated range of Cavalier King Charles Spaniel accessories and greeting cards.