How to order a sculpture of your dog
If you're interested in ordering a bespoke dog figurine from Mon Petit Chien here's some information! Once you're ready, you can order a sculpture of your dog here
Step 1: supply photos of your dog
The first thing is to send us photos of your lovely dog. If you are ordering a sculpture as a memorial we can generally work with whatever photos you have. If you are able to take photos of your dog for your sculpture; there are some tips about how to take photos of your dog for a figurine on our photo information page here. Either way we ask for at least 6 photos, if possible.
Step 2: order your figurine
You can order a sculpture of your dog online - or if you would like a figurine in a custom size or material, you can contact us to order.
Step 3: we create a 3d model of your dog
We use your photos as a reference, paying careful attention to any unusual markings or features your dog has. We can create sculptures of any breed of dog including crossbreeds! Each figurine starts with a completely custom model in 3d modelling software. This is a bit like painting a picture of your dog using your photos as a reference, except we use computer modelling software to create a 3d version with an accurate shape, texture of your dog's fur, and markings.

"Thank you so much for Luna's model, it's really good. Even Luna loves it and has been going crazy (in a good way) when she first saw it.

It will be a treasured keepsake for the family."
Nita & Leighton
Step 4: feedback
We'll involve you in feedback and send you photos of the model we have created so you can check you're happy with the sculpture. At this stage you can request any tweaks or changes to make sure that your sculpture looks exactly like your dog.
Once you're happy with the 3d model of your dog we will also provide you with a link to an interactive 3d render video of your dog's 3d model so you can scroll around it and see how it'll look once it's been printed.
For an example: take a look at a 3d interactive view of our model of Walt the Frenchie - you can click and drag to move around the model, or zoom in and out with your mouse wheel.
Step 5: your sculpture gets printed
Mon Petit Chien dog sculptures are 3d printed, which is a super cool process where our computer version of your dog's model gets printed out and dyed as it goes. The print process is quite different to a normal paper printer and colours do come out slightly differently - so they will be matte rather than glossy. However we will ensure your dog's colouring comes out as accurately as possible so it's a great representation of your lovely dog!
Step 6: receive your dog's sculpture!

"I LOVE HIM, Thank you so so much!!!

That's the best parcel I think I've come home to!! "
Sian
The most exciting part! We carefully package up your dog's sculpture and post it off to you. From photo approval to receiving your model usually takes around 6 weeks, so it's great to order well in advance of a special date.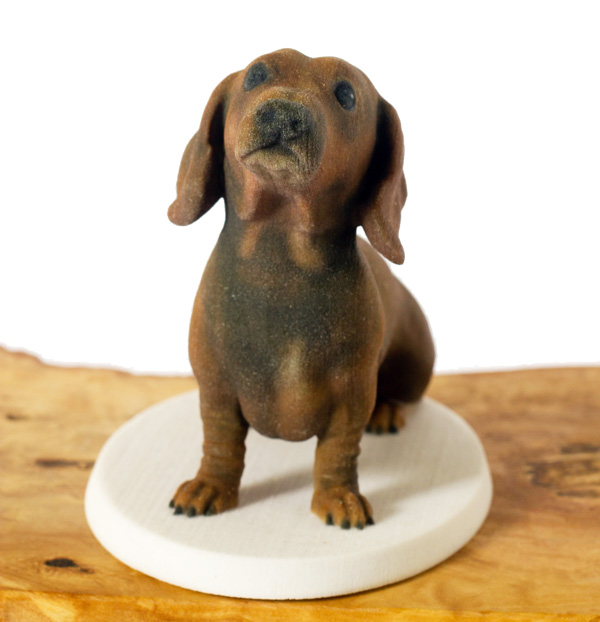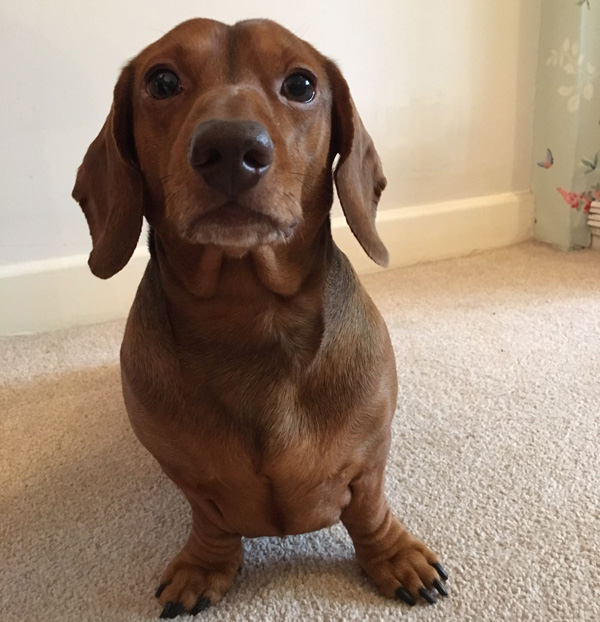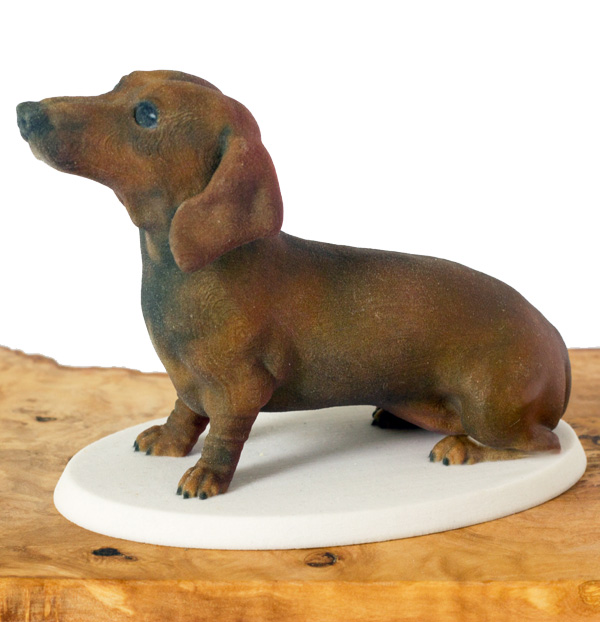 Some further information
Here are some of the most common queries about our 3d printed dog models.
How do you know what my dog looks like?
Our 3d printed models are designed from photos of your dog and, if you're able to, you can take photos specifically for your dog's sculpture. As we also create models as dog memorials, we are able to work with whatever photos you have of your dog - even if they are from lots of different times.

"Thank you so much for bringing our Tara back into our home. She looks amazing me and my husband cried as soon as we saw it.

Forever in thanks to you. We can't stop looking at her. Omg I still can't believe how wonderful she is. Thank you!!!"
Paula & Kerry
What sizes are your dog models available in?
Our bespoke dog figurines are available in 3 different sizes as standard, but they can be ordered in any custom size you require. So whether you'd like a tiny Great Dane to fit on your mantlepiece or a life sized cocker spaniel to sit in your garden, we can help.
What are the sculptures made from?
You can order a full colour figurine as standard, which is made from a sandstone-feel material. These are suitable for indoor use and are fairly fragile (they do survive light knocks, our dog picked a sample model of herself up and carried it around - no ill effects.. but that's another story!). You can also commission a sculpture in bronze or a range of other materials. We can also create solid silver or gold jewellery based on your dog. Please contact us for details of a bespoke order and we are more than happy to help.
How long does it take?
It usually takes about 6 weeks from approving your photos to receiving your bespoke dog figurine. If you need it faster, please ask us as we may be able to offer an express service.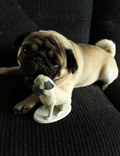 "I absolutely love my model of Boris that I can keep a life time and always remember him by.

I'm so impressed with the likeness of him and so are all my family and friends."
Craig
Any other information you should know?
Mon Petit Chien 3d printed models of your dog are also extra special because we donate £2 to Friends of the Dogs (Wales) for each one. You can read more about our charitable giving here.
Also...
We pride ourselves on being really nice people to work with. We have our own dog, Fraser the mad Welsh rescue terrier. You may hear him when you call us! We know how much we treasure our dogs and understand how awful it is when we lose them. Please get in touch for a chat - we really look forward to talking to you.