Meet Walt the Frenchie
Walt the French Bulldog has a Mon Petit Chien 3d printed sculpture of himself, because he's super cool. He is 15 months old and lives in Bristol with his favourite human Owain. He's a playful little ball of energy and makes up in personality what he lacks in size!
Here's Walt and his pretty pawsome unique 3d printed frenchie model. Check out those ears!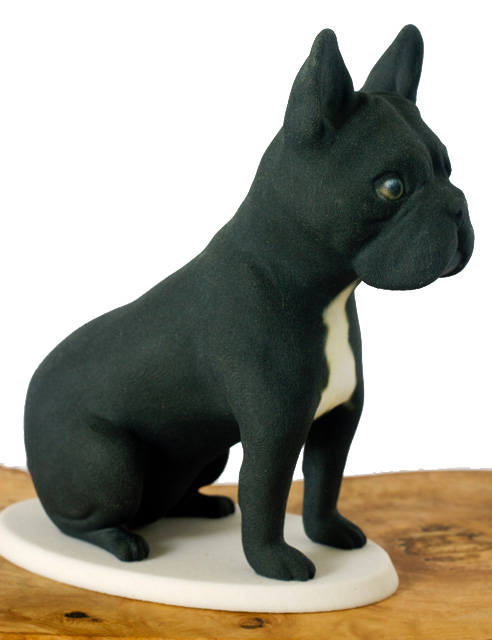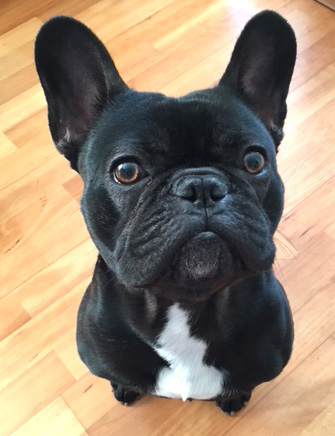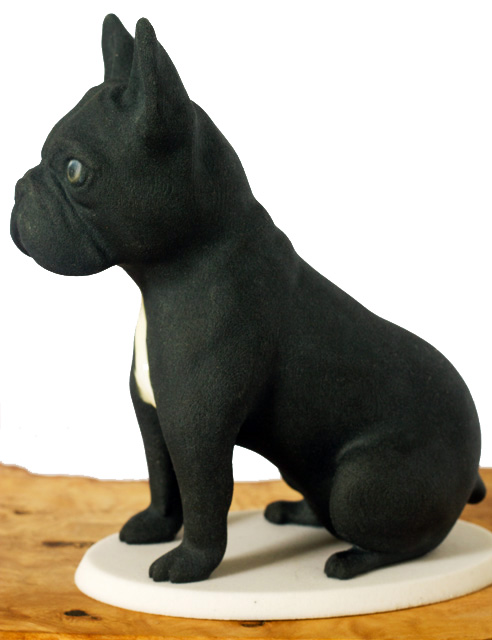 Check out an interactive view of Walt's 3d printed sculpture
We all love Walt. How could you resist him! He definitely deserves his own full colour 3d printed figurine.
Take a look at an interactive view of his 3d printed frenchie figurine here - you can click and hold to move the model around, and zoom in and out with your mouse wheel.
As part of the process of creating a 3d printed model of your dog, we involve you in feedback and you'll be able to see an interactive version like this of your own dog in 3d.
The totally ball obsessed Walt and his best friend Owain came to have a chat with the Mon Petit Chien team:
What was Walt like as a puppy?
Owain: Walt was very playful with a huge amount of energy.
Walt: Did somebody say ball?
How has Walt changed as he's grown up?
Owain: For some reason his chest collar was his sworn enemy as soon as it was on. That has not changed as he's grown up!
Walt: That chest collar is my nemesis! I'll defeat it one day. One day.
Owain: I'd definitely describe Walt as happy excited with a splash of chill.
Walt: I'm still cross about the chest collar.
What does Walt eat?
Owain: Walt eats James Wellbeloved turkey and rice.
Walt: Don't forget the tuna and the cheese. Don't go pretending you only give me dog food!
Owain: He's not spoilt. At all.
When is Walt happiest?
Owain: When he's playing with his fetch ball. He loves chasing his ball around a field more than anything! He starts moaning when you pull the ball out and can't contain his excitement.
Walt: Look, who doesn't love chasing a ball? Tell me that!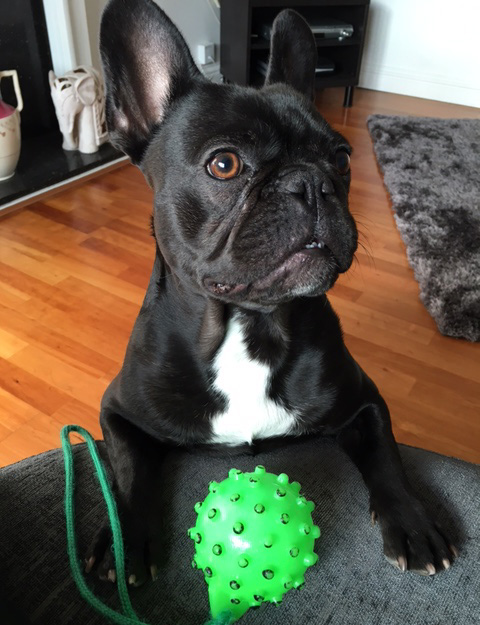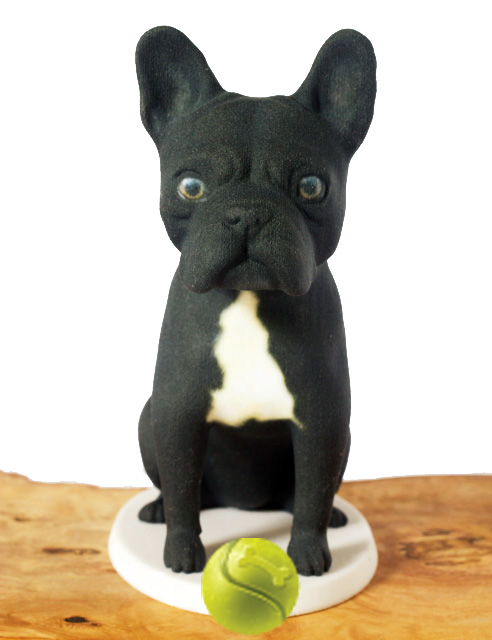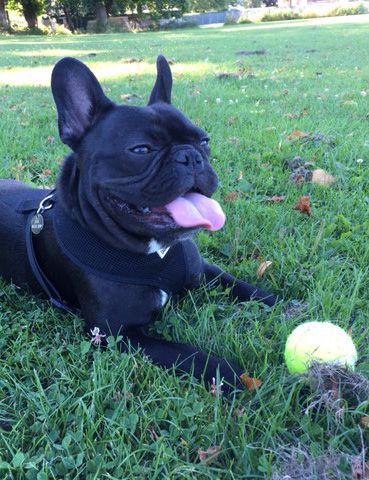 When is Walt funniest?
Owain: Walt is such a big personality and throws excellent strops that are very funny. He moans when you won't play with him, especially if it involves a ball. Moans when light reflects on the floor or walls! He can be very stubborn at times and quite sensitive so he strops quite well!
Walt: What even is this question? I'm not funny! I'm a handsome french bulldog of awesomeness. You should all bow down before me. And get me a ball.
How affectionate is Walt?
Owain: Walt is not happy unless he's right next you when you're on the sofa. He'll lick your nose delightedly if you bend over him! He also lick your whole face and ears if he's super excited.
Walt: You might have a ball. Also, I love you. Do you have a ball?
How does Walt greet you when you haven't seen him in a while?
Owain: He is super excited and happy. He leaps up, turns round in circles and then goes and brings a toy over to you to play with.
Walt: Guess which toy.
What's Walt's favourite toy?
Owain: ...
Walt: ... SAY IT.
Owain: ...
Shop our French Bulldog presents and accessories
Our Frenchie earrings and Frenchie necklaces are modelled on the delightful Walt (minus a ball). You can order them in a range of quirky colours and also in silver or gold.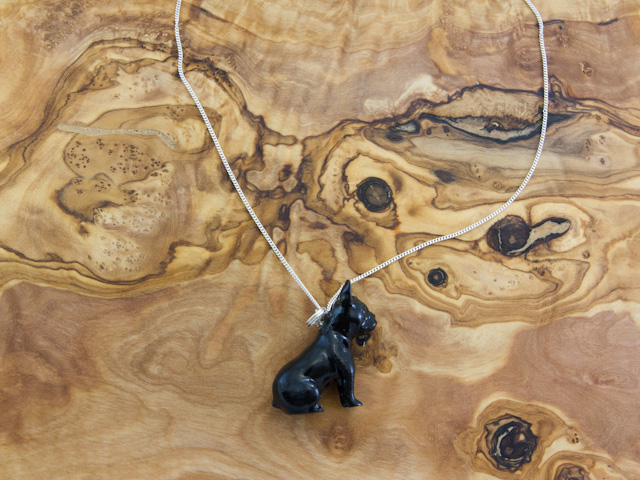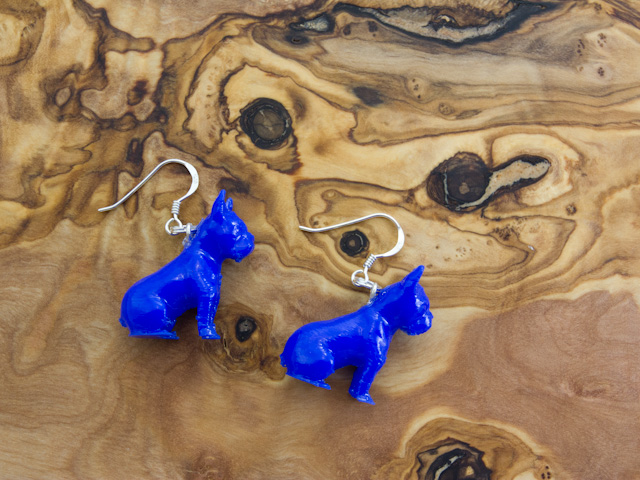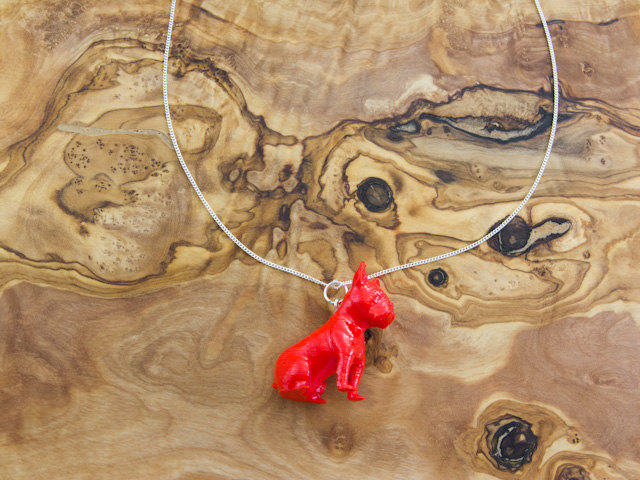 You can also commission a unique 3d sculpture of your own gorgeous frenchie in full colour, or commission some silver or gold jewellery based on your lovely dog.
Our range of personalised books is available to order for frenchies - pawsome presents for pet owners! Find your frenchie book here.
Don't forget to take a look at our beautifully illustrated range of French bulldog accessories and frenchie cards.