Meet Boris the pug
Boris the brilliant pug has had a beautiful 3d printed figurine created of himself, because he's soo worth it. Boris is 3 years old and lives in Wales with his human Craig. He's a happy, funny and incredibly affectionate pug, as most pugs are!
Check out Boris's gorgeous Mon Petit Chien 3d printed dog figurine! Because who doesn't need an extra pug in their life.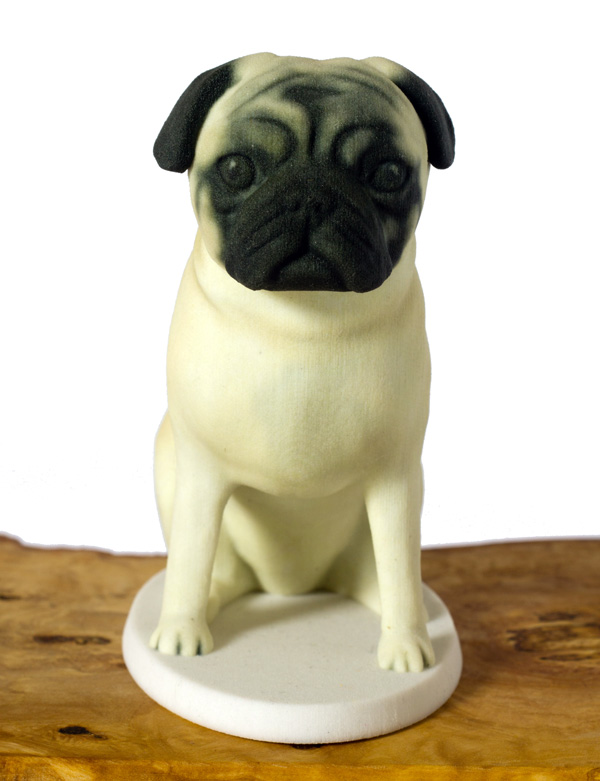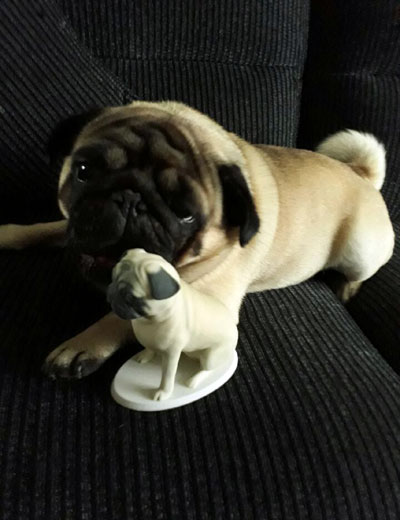 Check out an interactive view of Boris's 3d printed pug sculpture
Boris thinks his Mon Petit Chien unique pug figurine looks just like him although he says he's even more good looking. Boris has been 3d printed in glorious full colour, as befitting a pawfect pug.
"I absolutely love my model of Boris that I can keep a life time and always remember him by.

I'm so impressed with the likeness of him and so are all my family and friends."
Craig
Mon Petit Chien caught up with Boris and his favourite person Craig for a chat:
What was Boris like as a puppy?
Craig: Boris was a fabulous puppy, the best we've had. He's never done any damage in the house and was crate trained from birth, he is very happy with his crate!
Boris: All pugs are awesome puppies. Although I have to say, I was the best.
Craig: He was house trained from 8 weeks and has never had any accidents in the house.
Boris: Gosh. Must we really dwell on this?
How has Boris changed as he's grown up?
Craig: He's always been a very laid back chap that loves his walks and cuddles and adores the television.
Boris: Emmerdale is my favourite program. I come running when the music starts! What can I say.. a pug's gotta love a soap opera.
What does Boris eat?
Craig: Boris has a sensitive belly and is on special dried food.
Boris: You heard it. Special food for a special pug.
Craig: He also has sensitive small fresh treats.
Boris: Only the best for this pug! Got them all wrapped around my little paw. Sometimes they give me chicken. That's because they love me more than life itself!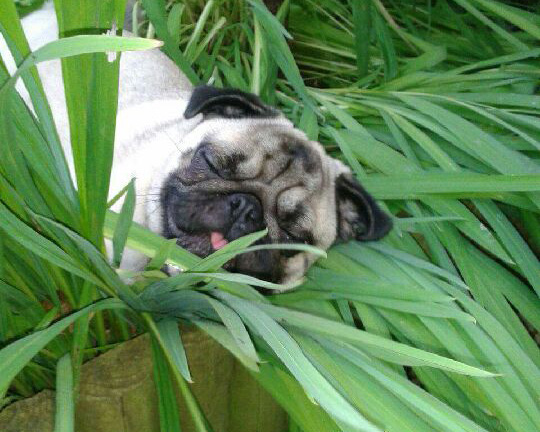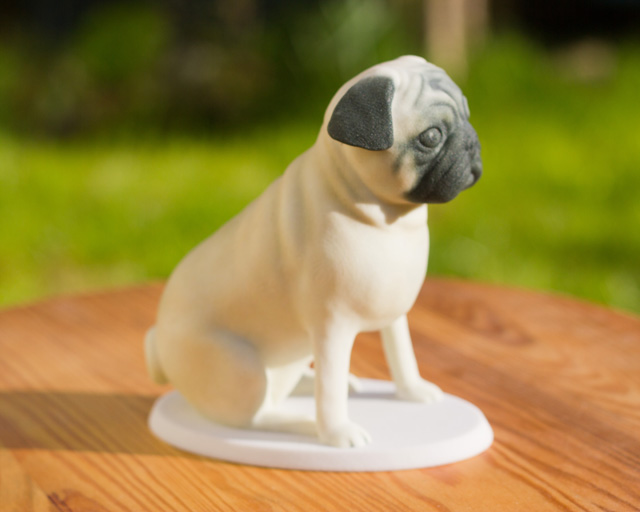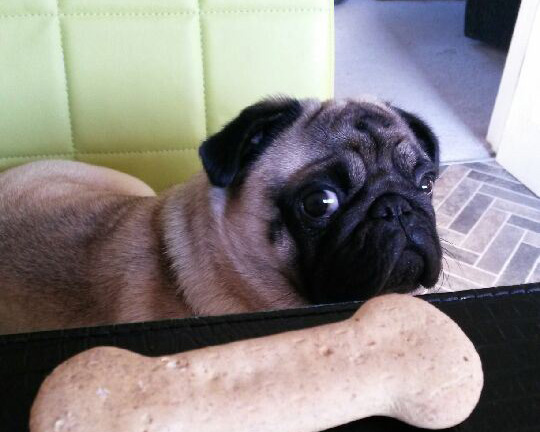 When is Boris happiest?
Craig: When he's with people. He loves everyone!
Boris: People are fabulous. Especially my ones!
Who are Boris's sworn enemies?
Craig: He doesn't have any - he's happy with everyone!
Boris: Actually, I don't like those birds that sing on the tv sometimes when you watch nature programs. Grrrr! Let me at'em! I'm sure there's a way into that tv box...
Perfect day?
Craig: A long walk as he's always delighted to go out, whatever the weather! Then some time spent with my 8 year old niece - he adores her. He also loves being in the car - on the back seat with his safety harness on - he loves travelling.
Boris: It's true, I'm a pug of adventure! I like to watch the world go past from a car window.
How does Boris greet you when you haven't seen him in a while?
Craig: He waits for us to go to him (he's asleep on the sofa) and kiss him then he runs to his food bowl ALWAYS!
Boris: As previously noted: small paw - wrapped around. I am a pug who has it good!
How affectionate is Boris?
Craig: He is really affectionate - he cuddles in and give kisses galore.
Boris: I can't even find the woofs to describe how much I love Craig. And everyone, come to that. Come and have a pug cuddle!
Craig: Boris has also been brought up around disabled people and children and adores the elderly - he's really switched on to their needs and watches them and reacts what when he realises they need help or even if they move. He's incredible with them!
Boris: basically what I'm hearing Craig saying here is 'so Boris should get all the food'.
What's Boris's favourite toy?
Craig: He loves his monkey toy and a big teddy and a nylon bone.
Boris: I wish you hadn't told them about the big teddy. On the plus side though, I know which toy is which! I'm a clever pug of cleverness. Ask me to get one! Go on!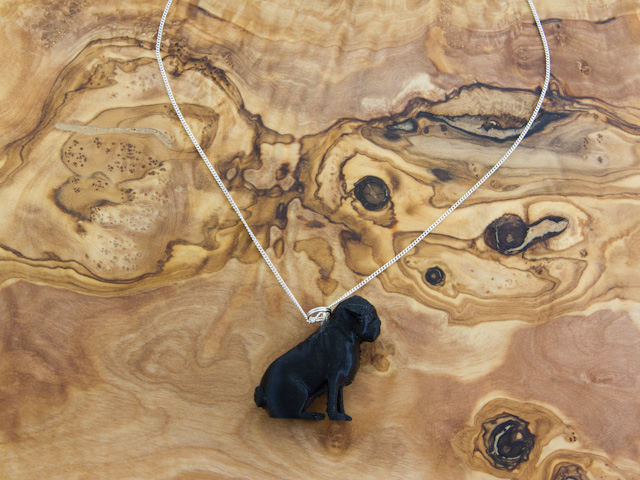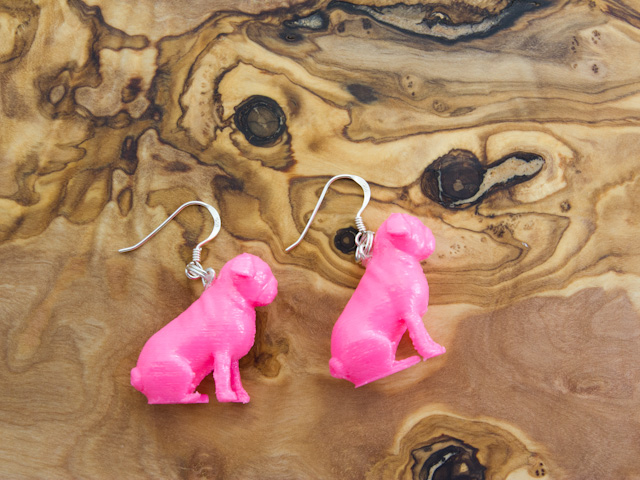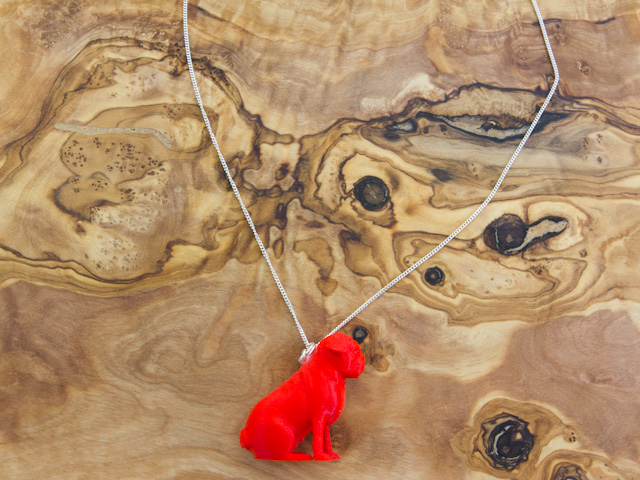 Shop Mon Petit Chien pug presents and accessories
Mon Petit Chien pug earrings and pug necklaces are modelled on the very handsome Boris. You can order them in a range of quirky colours and also in silver or gold.
You can also commission a unique 3d sculpture of your own pug in full colour, bronze, or a range of other materials; or commission some silver or gold jewellery based on your very own gorgeous pug.
Our range of personalised books is available to order for pugs - pugalicious presents for pug owners! Find your pug book here.
Don't forget to take a look at our beautifully illustrated range of pug accessories and pug cards.