Win Personalised Books in our May competition
It's National Share-A-Story month, which is an annual celebration of story telling and story sharing. This year's theme is 'Picture a Story' and is a perfect time to open your favourite picture book and get your children reading.
One of the aims of this year's National Share-A-Story month is "to encourage youngsters of all ages to draw, illustrate, sketch and tell a story, however simple" and we're celebrating with a great competition to get the whole family involved in.
It's running throughout May 2017, and you can win both our personalised books.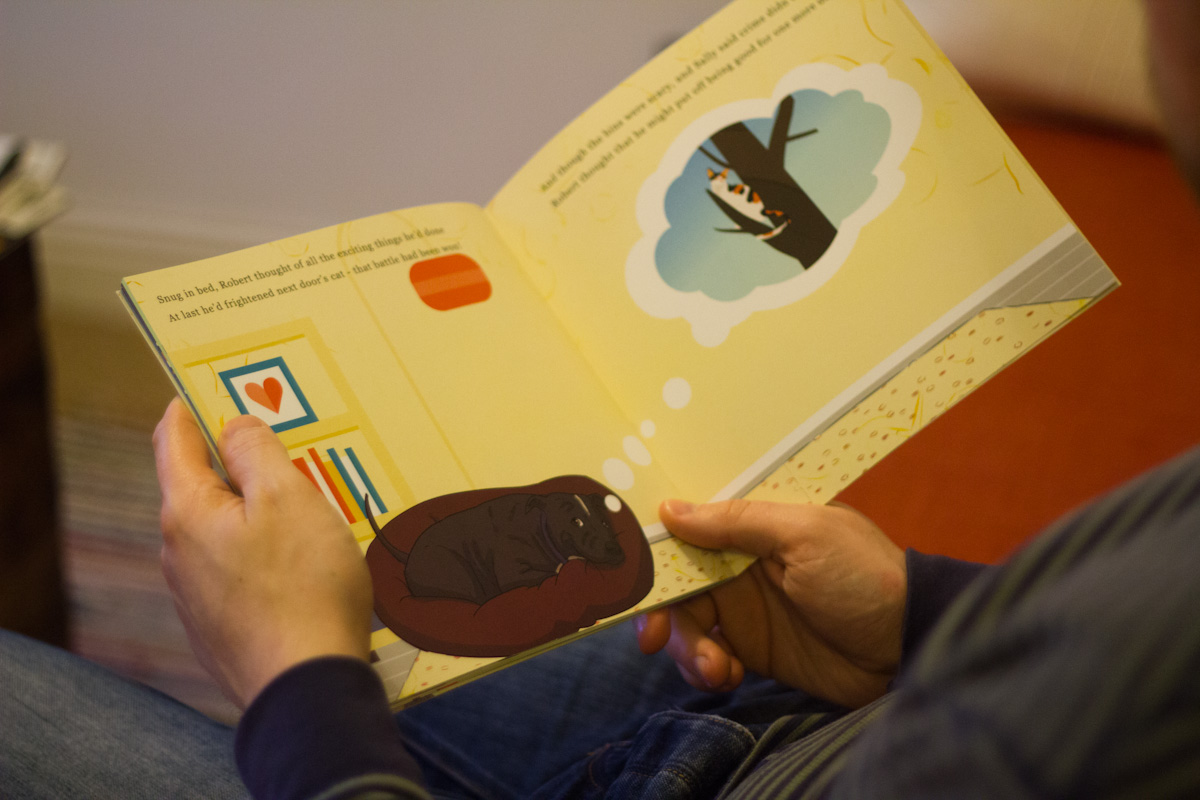 How to enter
Tell us what your dog's favourite thing is to do, in a very short story (1-2 sentences is fine)
Draw, paint, doodle or sketch a picture of your dog (or your favourite dog!) You could even include its favourite thing in the picture, e.g. maybe a ball, its supper, or something sillier!
There are 3 age categories for this competition, and 1 winner from each category will win both our personalised books.
Ages 0-6
Ages 7-11
Ages 12+
How to send us your entry
Send an email to competitions@monpetitchien.co.uk with subject line 'Share a Story Competition' and include:
Your mini story about your dog's favourite thing (1-2 sentences is fine)
A scan or photo of your drawing of your dog! (it doesn't have to be a good quality photo, from a phone is fine)
Don't forget to also let us know
Your name and contact telephone number
The age category your entry is for (0-6 / 7-11 / 12+)
Closing date: 31 May 2017.
One entry per person; multiple entries per address are allowed.
What are we looking for?
We want you to have fun with your children and would like to encourage everyone to read, draw and share stories. Felt tip fun is just as welcome as fine art. Good luck and have fun drawing and sharing stories.
Need some inspiration? Joe (in our 0-6 years category) is here to help. Here is his brilliant drawing of Monty. Monty's favourite thing is being happy and that's why he has a big smile on his face.
We especially love Monty's excellent colour scheme and his pawprint collar tag! Thanks Joe. We're really looking forward to seeing all your drawings so don't forget to get them to us by 31st May!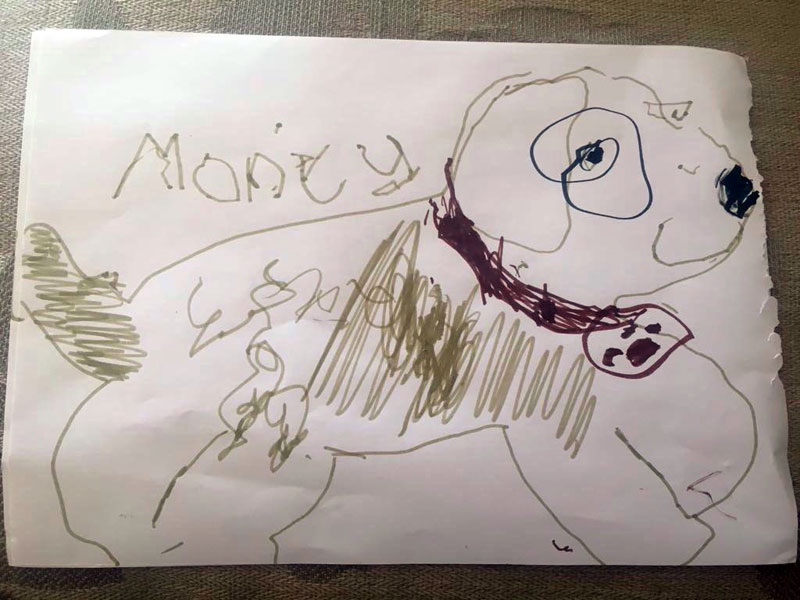 Share-A-Story Competition Terms and Conditions
Closing date 31 May 2017 11:59pm. Entries after this will not be counted.
This competition is open to UK residents (England, Scotland, Wales and N. Ireland).
The winners will be picked and notified within 7 days of the closing date via the contact details you provide, and on this website. The judges decision is final and no correspondence will be entered into.
There will be 1 winner in each age category; each winning the prize of a copy of both our personalised books in an available breed from the list below; with free shipping to a UK address.
Our personalised books are available in the following breeds of dog:
Cavalier King Charles Spaniel
Cocker Spaniel
Dachshund
French Bulldog
Golden Retriever
Jack Russell
Labrador
Pug
Springer Spaniel
Staffordshire Bull Terrier
There is no cash alternative to the prizes.
To qualify for entry you must email competitions@monpetitchien.co.uk with a photo of your (or your child's) drawing of a dog, together with a very short story (1-2 sentences is fine) about the dog's favourite thing.
One entry per person. Multiple entries per address are allowed.
By entering you agree we may use your images as publicity about this competition on our website and social media. We will publish entries in a lovely gallery on our website. We won't use your images or stories for any other purpose! We won't share your contact details with any 3d parties.